I started my cross stitch "C" monogram and I'm loving it. I'm thinking of placing it in a round frame if I can find one I like. Maybe something like this: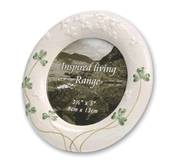 Hey, we're Irish. What can I say?


More embroidery goodness:
- Feeling Stitchy has a nice French Knot tutorial.
- Incywincy has some damn cute French knot sheep.

And some books on my wish list:


From left to right:
The Ultimate Sashiko Sourcebook by Susan Briscoe
The Cross Stitcher's Bible by Jane Greenoff
Small Scale Embroidery: In Cross Stitch and Other Techniques by Brenda Keyes
Elegance: Exquisite Doily Patterns Charted for Cross-Stitch by Annette Bradshaw and Gwyn Franson
Traditional Samplers by Brenda Keyes

I'll see how long this embroidery interest lasts before I invest in a new library though!